Please note that we regularly take in cats, so there may be more cats available than are reflected on this page. To inquire about the availability of our eligible senior cats, please contact us.
---
BLACKIE (aka MR. MAN) FIV+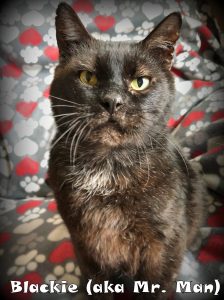 Well, hello there! My name is Blackie (also known as Mr. Man)! I am 8-10 years old (as of February 2019). My person went into a nursing home, so I found myself at animal control. Another rescue took my two housemates, but they would not take me because I tested positive for FIV (I agree – that's very silly), so here I am! I have a low grade heart murmur, but the vet said it's nothing to worry about. I just had a dental, too.
I'm a SUPER affectionate kitty who loves to root your hands, purr, make biscuits, and snuggle. I get along great with other cats, and kids and cat-friendly dogs should be just fine for me.
Testing positive for FIV means either I carry the virus or I was vaccinated for it at some point. But guess what? FIV IS NO BIG DEAL! FIV positive cats can live as long as negative cats and may never have any health issues. All we need is good food, regular vet visits, a clean environment, and lots of love! FIV positive cats can also live with negative cats as long as the household is stable and everyone gets along, which is definitely the case with me – I live with my FIV negative friends and we get along great! FIV is spread to other cats through deep, vicious bite wounds that are uncommon outside of intact tomcats (and I'm neutered!) Besides, I'm a lover, not a fighter! Click here or email shannon@catnetwork.org for more info.
---
FUZZY
A MAN CAT! Yup, that's Fuzzy. An senior cat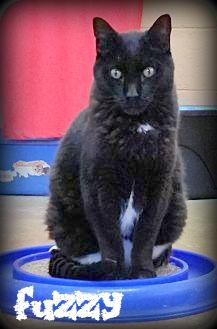 (DOB January 2001) who just IS… He hangs around, waits for you to pet him, might deign to let you give him a pass with the brush. And he will definitely eat as many treats as you put down! He is a take charge kind of guy who wants to be the boss-man cat. Fuzzy used to live outdoors, but now he's used to a little more plush surroundings. But that's not to say that he is wimpy cat! So if you know of a guy (or gal!) who is looking for a pet that is not going to take up all of their time, and is not a pretty little foo-foo thing, and would probably just like to hang out and watch some soccer or football – have them contact us! That's not to say that if you lay face down on your stomach, that you might not find him curling up on your back for a nice nap!
---