Please note that we regularly take in cats, so there may be more cats available than are reflected on this page. To inquire about the availability of our eligible senior cats, please contact us.
FUZZY
A MAN CAT! Yup, that's Fuzzy. An senior cat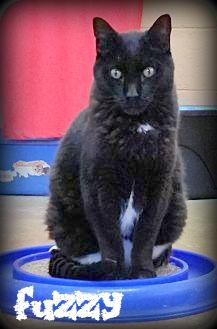 (DOB January 2001) who just IS… He hangs around, waits for you to pet him, might deign to let you give him a pass with the brush. And he will definitely eat as many treats as you put down! He is a take charge kind of guy who wants to be the boss-man cat. Fuzzy used to live outdoors, but now he's used to a little more plush surroundings. But that's not to say that he is wimpy cat! So if you know of a guy (or gal!) who is looking for a pet that is not going to take up all of their time, and is not a pretty little foo-foo thing, and would probably just like to hang out and watch some soccer or football – have them contact us! That's not to say that if you lay face down on your stomach, that you might not find him curling up on your back for a nice nap!
---
MOPSY
Mopsy (DOB Spring 2002) is a fluffy, confident, front-declawed girl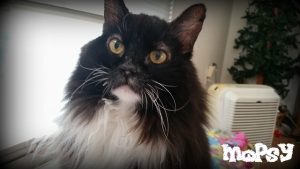 who wants to perch on your or lean against you, with her paws touching you. Mopsy is laid back and does her own thing – even at her advanced age, she is frequently caught swatting toys around the room! She never complains and has a loud purr that sounds like the raspy rumble from a motor of some sort! Mopsy mostly ignores other cats, although if one happens to snooze next to her, she isn't bothered by it. She does, however, prefer her own meticulously clean litterbox. Some things should not be shared! Mopsy adores all people and will sit in front of you and look at you with her eyes round and unblinking, hoping you will get the hint to give her some love!