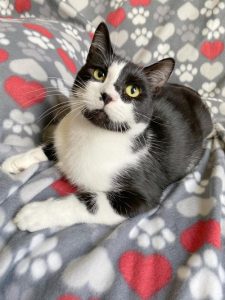 RUSTY
I'm Rusty, and I'm ready for belly rubs! I have a lot of kitten left in me, so I am very energetic, playful, and love all kinds of toys. I'm also very affectionate! I adore being held, petted, and loved on, and I will follow you around the room rubbing on your legs to let you know I want attention. An active household with kids would be great (I don't even do the typical grabby/nibbly thing that most kitties do when you rub their bellies).
I haven't been around a dog yet, and here's the thing about cats (this is hilarious): I have a Napoleon complex. I'm a small dude, but I'll chase and pounce the biggest kitty in the room! I just really want to PLAY! I also nuzzle on other kitties, so I really do want to be their friend.
I am FIV+, but guess what? FIV IS NO BIG DEAL! FIV positive cats can live as long as negative cats and may never have any health issues. All we need is good food, regular vet visits, a clean environment, and lots of love! FIV positive cats can also live with negative cats as long as the household is stable and everyone gets along (introduce us slowly and there should be no problem). FIV is spread to other cats through deep, vicious bite wounds that are uncommon outside of intact tomcats.
For more information, please email shannon@catnetwork.org.