Application
If you are interested in adoption, please download our Adoption Application, fill it out, and email it to info@catnetwork.org. You may also fill out/drop off an application at an adoption event or mail it to us.
Applicants must be a minimum of 21 years of age and gainfully employed.
Please note that The Cat Network is comprised solely of volunteers. We appreciate your patience as we process applications and respond to inquiries. Please allow at least 3-5 days for a response (up to two weeks if your application was mailed).

Fees
Our adoption fee is $115.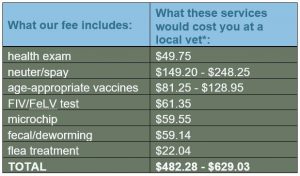 * prices as of January 2016