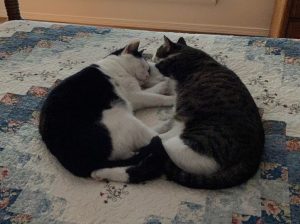 It's been 4 months since we brought Pirate and Angel home and we thought we would send some pictures to show how they are doing.
It took a couple of months, but once we found them snuggling and sleeping together – they seem to snuggle together more and more. This does not mean that they are in harmony 100% of the time. HA! They sound like a herd of horses running up and down the hall chasing each other.
Pirate has become my snuggle buddy. Nothing makes me happier than when he lays his head next to mine – on my pillow. He is so easy going and loves his sister; he follows her wherever she goes and can't wait to bathe her which quickly turns into planting his mouth (11 teeth and all) firmly around her neck and/or breast bone.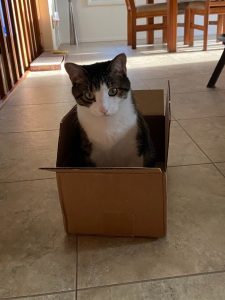 Angel is everything that we thought she would be when we met her on June 4th and again on June 6th before we brought her home. She is full of adventure and is up for any challenge – no matter how high or scary (scary for me – not her). My husband has turned into a big mush ball when it comes to the kitties – but especially for Angel.
We live in the woods and have a recurring problem with mice getting in the house. Angel has already caught three mice – not to mention the spiders and other bugs that find their way into the house. We know our pest control is in good paws (and teeth) with Angel and her lovely assistant Pirate on the job!
Both kitties have settled in nicely, and I think they are happy with their new "together" home. We love them and really miss them when we go out for a while. It is always nice to be greeted at the door by two kitties that are happy to see us!
~ Lynn D.