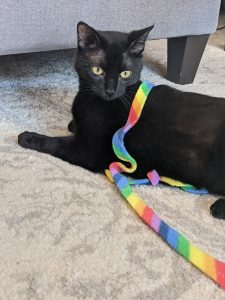 As if 2020 weren't bad enough,  we lost our adorable baby Pumpkin.  Our hearts were broken.  Enter Elvira – a cute,  playful,  happy little foster.  Already having two other kitties of our own and not wanting to replace Pumpkin,  we were content to foster "Baby Bira ", as she affectionately became known.
Elvira was such great foster;  she got along with our cats as well as our other fosters.  She even managed to get some of the grumpy ones to play (not an easy feat considering some of their personalities). It was becoming apparent that she was fitting right into our home; we were still hesitant to make it permanent, but Elvira had a different plan – perhaps it was because she had been told I needed a baby girl because I was sad.
As time went on, we soon came to realize (without saying it to each other)  that Elvira had touched a place in our hearts we thought was impossible.
Elvira officially became our girl on April 5, 2021 but long before that, we knew we could never give her up.  Perhaps it was because she loves to tell us what's on her mind,  or that she insists on bringing us her favorite toy so we play, or that she's content to roll on her back for belly rubs before sliding down head first off of the couch.  It doesn't matter the reason;  she's our forever girl now.  To say she makes me smile every day is an understatement; she brings joy and happiness every day just by being Elvira.
~Cheryl M.