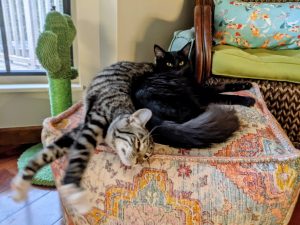 My husband and I are animal lovers and had wanted to adopt a cat for a long time. We have a senior dog (Sadie, who just turned 12 and is a border collie/heeler mix) and wanted to adopt a feline companion (or two) for her and ourselves that was comfortable around dogs. We recently lost our kitty Peach, and very much missed having a cat around the house. Yakko and Wakko seemed like a sweet pair, so we were delighted to adopt them both so that they could have each other as playmates/companions.
It took them a few days to start exploring, but they quickly identified some great sleeping spots and are enjoying chasing each other from room to room. They are also getting along really well with our dog, Sadie, and even cuddle with her sometimes. We especially like that Yakko (now Squee) is more cuddly/affectionate and that Wakko (now Skittles) enjoys doing his own thing.
Alex and I can't believe how sweet they are, and are certain it's because of the great care they've received. We are beyond grateful to have them as part of our family. And of course we've been taking a ton of pictures.
Thanks again for all of your help with the adoption process!
~ Sarah