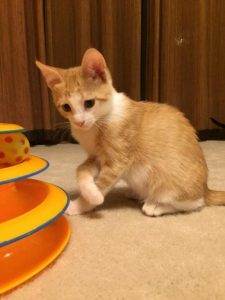 Our family loves cats, especially those big orange and white male domestic shorthairs. In our experience, they are everything one could ask for in a cat. (There are special angels in kitty heaven named Spencer and Quincy that gave us that experience.)
We weren't really looking for a kitten last December, but as I casually browsed Petfinder.com, the picture of an orange and white kitten jumped out at me. It showed him in profile, looking out a window. His expression was so bright and curious that it intrigued me, as well as my family. We decided to meet little "Cheeto".
At this meeting, we saw just how well socialized he was by The Cat Network. (Thank you, Susan and Gillie!) He played with us, sat on our laps, and purred up a storm. While we were making the final decision to adopt him, he walked into our cat carrier and sat down, ready to go! From that moment, he has been making his preferences known around here.
Yes, Charlie (new name) is a large-and-in-charge personality. He is a "bit" stubborn and doesn't accept the word "no" as part of his language! Our older cat couldn't stand him for two weeks, but he won her over. She's pretty old (15 now), but he got her to play. He's pretty good at getting his way.
However, he is so loving and people-oriented that we don't care. He's very cuddly, and he purrs so hard that he drools! He makes time to be with all three members of our family and seems to love us equally — with a tiny bit of extra affection for "Daddy". He's very vocal, and we are learning what his different "words" mean.
We are so happy we brought Charlie into our lives and are grateful to the Cat Network for saving and caring for him until that special day when he became ours.
~ Sheryl W.