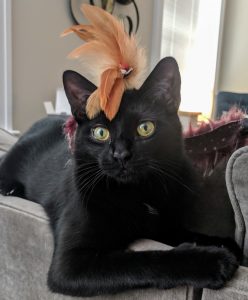 I had been thinking of adopting a cat for well over a year when Fritz showed up on my Petfinder search. I knew I wanted a black cat, and his sweet face immediately tugged on the heart strings. His official name on the site was "Ridiculous Riley", and when I read the description that he was "one of the most ridiculously affectionate cats" his foster mom had ever met, I knew I had to meet him myself! I did a fair bit of research into the Cat Network, and they had a stellar online reputation, so I felt confident working with them and supporting their cause. It took all of about 5 seconds of seeing him in person to know I wanted to take him home. Incredibly sweet, but also playful and goofy, I knew he had lots of personality and would be a great buddy.
I've had him for almost 6 months now, and I tell him all the time how lucky I was to find him. He is such a sweet and good-natured cat. He loves to play; lately we've really gotten into the "chasing" game, and he loves to run through his cat tunnels and "scare" me! He also enjoys distracting me while brushing my teeth by knocking over hair ties and anything else he can get his paws on from the counter!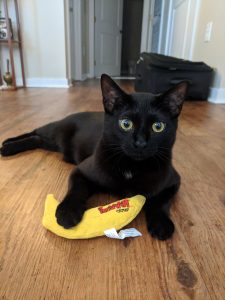 He LIVES for his wet food, and will let me know when it's time for dinner with lots of insistent head butts (I had to buy an automatic feeder for his very early morning breakfast – head butts aren't as cute at 4am!) He's also had a couple weekend visits with my brother's dog, and does very well. He has definitely transformed my apartment in the last 6 months; suddenly there are cat trees, scratching posts, toys, and cat beds everywhere. 😊 He's a spoiled cat, but I think he deserves it.
Thank you to the Cat Network for taking in my boy while he was waiting for me to find him!
~Kristina