A very beautiful Snowshoe mix cat came into my life a couple of years ago as my first foster. Lily had not done well being with other cats, dogs, or small children. The Cat Network was looking for a foster home for her without any of those irritants, and my place fit the bill.
Lily adapted well, eventually seemed to bond with me, and I decided to keep her. She seemed happy overall, but maybe wanting more attention than I could offer her being single and still working. In reading about Snowshoe cats, it says they tend to prefer the company of people, but I couldn't just snap my fingers and come up with extra people to be around for her.
I suggested to The Cat Network that I thought Lily might be able to adapt to another cat if it was introduced to her as a kitten so she could feel like she was the "top cat". Some time went by, and then one day, a stray gray tabby kitten that had been turned in at Animal Control needed a foster home. This particular kitten had two bad eyes and was believed to have little, if any, vision. The kitten had been brought in from the streets of Ferguson, Missouri, right in the area where riots had recently taken place. Having no experience with this condition in a cat, I was apprehensive, but I took on the challenge and decided to name the little male kitten Toby.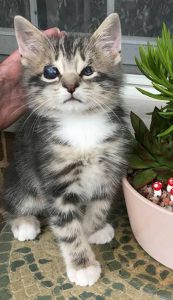 I sequestered Toby in a spare bedroom, both to keep Lily from harming it and to ensure there would be no chance of transmission of FIV or feline leukemia until the kitten was old enough to be tested. I worried about him all the time, imagining how lonely he must feel, being blind and by himself.
Gradually, I would bring Toby out in a room with me, holding him or guarding him closely, so Lily could see there was another cat present. As suspected, Lily had nothing but hate and fear in her eyes for this kitten. More than once, Lily tried to body slam him. As time went on, Lily softened and Toby proved that even being blind, he could go everywhere and do everything.
Lily and Toby started traveling back and forth with me from St. Louis to Indiana where I have a house restoration project. They have a studio apartment in the back of my station wagon. They made the trips well (except Toby throws up, but he snaps right back).
I was concerned about Toby falling on the curving staircase because of his lack of vision. People on a Facebook page for blind cats said he would adapt quickly, and he did (with a little training on steps).
The house is very old, out in the country, and has invading field mice. You cannot imagine the euphoria of a couple of city cats when a mouse shows up! A chance to hunt! But here's the clincher: the blind kitten got the mouse, and then another mouse! The sighted cat was left with the spoils of the blind kitten's conquest! He carried them around, up and down the staircase.
In a few months, both of them will be moving with me back to this restored country house with lots more room to play. Toby is almost as large as Lily now. They still play and wrestle and generally seem happy together. Hopefully they will have a long and full life together while Toby keeps amazing us with his abilities.