2016 was a pretty tough year for our old group of cats. The youngest one died from a tumor, and the two  others, who were both 18, went later in the year (stroke and kidney failure). Just before we knew we were going to have to put Tony to sleep, I reached out to The Cat Network to see about adopting a new cat. We had adopted Tony from the cat network in 1999, so I knew it was a great place. When I called, I was told to check out Clark on the Facebook page. I did, and was instantly interested. I had wanted a black cat for a long time, and there he was!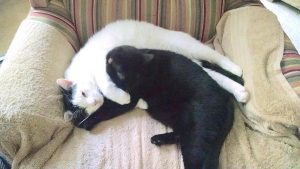 Soon, Clark was a member of our family. We renamed him Jack in honor of my late father. Later, we learned that Jack's best friend at the shelter was Louie. Interestingly enough, Louie was the first cat who came up and rubbed on my legs when I visited the shelter. Well, knowing that, I couldn't let Louie stay at the shelter, so we went and got him. I am so glad we did, because Louie is really a great guy. He is a gentle giant, weighing almost 17 pounds, and he's a lot of fun. Jack and Louie chase each other all over the house and play and wrestle and sleep together. Louie will roll over on his back and ask for a belly rub every time he sees me. There aren't too many cats who do this!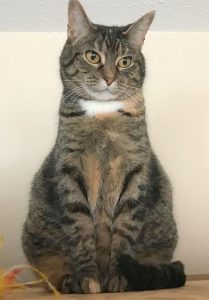 While we were getting Louie ready for travel at the shelter, Sydney jumped onto my wife Donna's lap. We could not ignore this blatant bid for adoption, so Sydney came home with us too, and we renamed her Amber. Amber is a sweetheart who runs into the bathroom whenever we go there so we can turn on the water faucet for her. She also likes to jump on my shoulders after my shower and try to lick the back of my head dry. It's always a good idea to keep a towel on my shoulders because those little claws are sharp!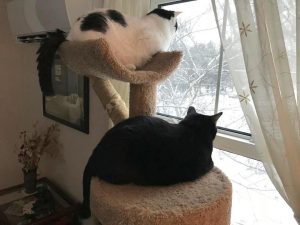 Anybody who knows cats will know that they all have unique personalities. Amber and Jack are both food-aholics, (Louie never begs from us). It's hard to eat a meal without the two of them sitting on either side of me waiting for a handout. Jack is the friendliest one of the bunch. He will go up to a stranger who visits the house and get right in their face. Louie on the other hand is very shy and will run and hide when a new person comes over. After that person has been here a while, he might come out and let himself be petted. Amber is somewhere in between the two.
Along with a cat tree conveniently located in front of a window, I have "catified" part of the living room. There's a stairway up to the entertainment center, and a bridge across the doorway to another cabinet. They all like it up there and can often be found enjoying the amenities.

I can't say enough about the people at The Cat Network who volunteer their time to look after all these precious souls.
~Jim B.