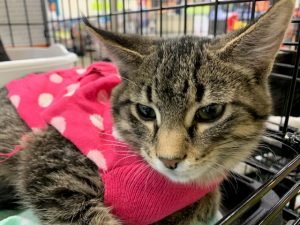 In 2019, my 19 year old cat and my 13 year old dog crossed over the Rainbow Bridge. These were hard losses; they were my bed partners, and that left me with one baby, CindyKitty. She was a feral cat about a year old which I had trapped, spayed, "vetted", and after much blood-letting, finally turned into a wonderful girl. But, my heart still had some empty places.
Lo and behold, along came The Cat Network! I was looking for a grey tabby male (neutered, of course). They didn't have one, but at their adoption center, I found a GORGEOUS grey tabby girl named Tulip (now named Maud after my Grandmother). I didn't really want another female, but she wormed her way into my heart. I had to have her, and home she came.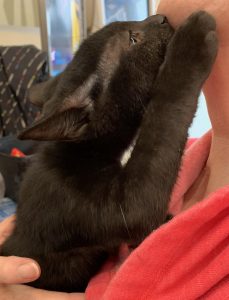 While looking over this beautiful baby, I spied Freddie, a silly, black, purring machine. Did I really WANT two more babies? Sure, why not! So, impatiently waiting for him to be old enough to neuter, we adopted Freddie (named after Freddie Mercury).
Needless to say, my heart is full thanks to The Cat Network. Both are now my new bed partners along with CindyKitty. Everyone gets along well.
Maud is quite the hunter, constantly chasing bugs and her favorite crocheted balls (thank you, Gillie). She tries to keep Freddie in check, but doesn't seem to be able to, (you know how difficult "guys" are, but she tries). She's still very much a baby.
Now, Freddie, on the other hand – he's an absolute Momma Baby Clown! He's constantly helping me with my daily chores, such as unpacking some boxes from our move, loading the dishwasher, dog sitting my daughter's dog, helping me with PC work, doing laundry (oh, lawdy!), as well as many other chores.
Well, let's get to the point of this lengthy story! Do you have an empty space in your heart? Could you use some laughter in your life? Do you want a little more love? Can you share some of your love? Then I would suggest you contact The Cat Network immediately! They can fill the empty space, make you laugh like you haven't in a long time, give you the love you want, and you can share your home with a new baby. They have been raised in wonderful homes – I can attest to that by how well adapted my new babies are! There are so many cats and kittens out there that need a good, loving home and YOU can help by adopting.
THANK YOU TO THE WONDERFUL PEOPLE WHO HAVE ALLOWED ME TO SHARE MY LOVE AND HOME WITH THESE TWO BEAUTIFUL BABIES!
~ Lyn M.