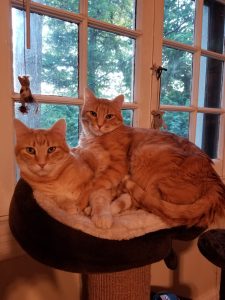 We welcomed Willie and Winkie into our home and our family on April 13th, and our lives are already so much richer; we could not imagine being without these adorable orange brothers. Especially now in this time of lockdowns and social distancing, they have been a constant source of joy and companionship. With each passing day, we watch a little more of their personalities shine through. In many ways, they could not be more different; Willie, bold and adventurous and Winkie, shy and cautious, but their capacity for love and cuteness is equally abundant.
It has taken patience, and love, and more again of both to set them at ease, but all well worth it. As is to be expected, they were quite nervous at first, and spent most of the first several weeks living almost exclusively under our bed. Willie, ever bold, was the first to make regular appearances and seek affection, and slowly but surely, Winkie followed his example. We have a saying now, "everything Willie does Winkie does, eventually," and our hearts are lifted with each new milestone, from tentative forays into our living room to cuddling on our recliners. Now our kitty companions pretty much run the show. Our boys have found their adorable voices, they move freely through every room in the house, they snuggle with each other and us, and their relaxed and gentle demeanor continues to be a balm during these turbulent times.
Willie loves sitting in laps, sleeping with his people, and follows Bonnie around the house, even sitting with her in her home office like the world's cutest co-worker. Winkie is a bit more reserved, perhaps favoring the more stoic Tino just slightly, but not above the occasional purr-filled visit or lap sit. They are both truly gentle souls, and the day they arrived at our door was the day our family became complete. They have brought love, peace, and joy into our lives and our hearts, and we are forever grateful for each day we have together as a family.
~ Bonnie & Tino D.